MEDIA: Articles: Steve Cummings - Music to Read Books By
by Andrew McMillan
29 October 1982 - p13, RAM, issue 196
---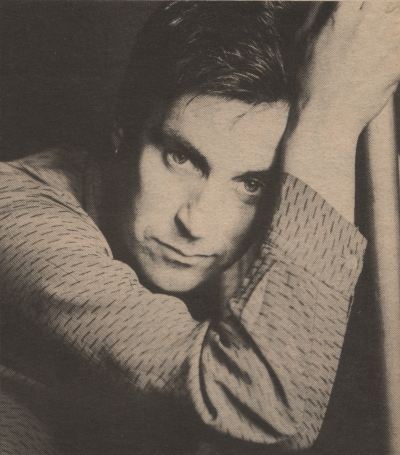 "Money," says former Sports vocalist Stephen Cummings, "is the long hair of the eighties."

And if that's the case, Cummings is going to be as anachronistic as ever and allow it to slip by. 'Cos now Steve is enjoying the good life. The gruelling tours, the recording deadlines, the business pressures and the intrusions on his private life are a thing of the past. And he's planning to keep it that way.

Steve Cummings wants to be "a white Ray Parker Jnr". He wants to produce the occasional slice of "sophisticated adult music". And if teenagers want to buy it, "then that's alright". 'Occasional' is the operative word.

Having spent four years on the fringes of the maelstrom as Sports' talented vocalist, he's quite happy to take it easy. He's got a part time job at Channel Nine in Melbourne and spends a couple of days a week helping out with staging. The rest of the time he devotes to watching movies (through the AFI), writing songs, writing short stories and scripts, and hanging out with friends like Johnny Topper ("He's the most interesting thing in Melbourne"), with whom he does a radio show on 3RRR.

The Sports, as you may recall, enjoyed a rather graceful decline.

"We just stopped playing about eighteen months ago," says Cummings.

So what happened? What precipitated the retirement?

"Nothing. We just got sick of it. We didn't really feel part of the music business. Plus (guitarist) Martin (Armiger) got very sick, which seemed like another good reason to stop as well.

"Even before we went in to record the fourth album (Sondra), we'd decided to tour for a month or so and then stop playing. Although Martin, Andrew (Pendlebury) and I enjoy playing together, it just wasn't the same as when we started, and we didn't really feel that the music business was, or should be, part of our existence, our being. We were in different worlds - completely!" (He chortles with that laugh that sounds more like a drowning man gasping for air than someone enjoying a private joke.)

"We just stopped because we realised we were getting further into the business. Through laziness and apathy we were allowing ourselves to become part of it. The laziness and cynicism involved was a bad thing; it's self-defeating. That was basically it. I haven't done much since then.

"I did get a band (Ring of Truth) together for two weeks over the holidays, just playing three nights a week. 'Ring of Truth', that was meant to be an ironic statement. But after I'd done one night, I realised I didn't want to carry it on. But I was obligated to these people to do it for two weeks."

Six months ago, with money saved from the gig at Channel Nine, Cummings recorded a single, We All Make Mistakes. Co-written with pianist Ian Stephens, it was recorded in four studios around Melbourne and produced by Martin Armiger. Among the musicians involved in the project were former Daddy Cool guitarist Ross Hannaford, ex-Models bassist Mark Ferrie, ex-Sports guitarist Andrew Pendlebury, a trumpeter and a trombonist. The single is set for release on Sydney's regular label.

"Regular loved it," says Steve, "so now I'm going to record another four singles and then an album for them. But we're going to do it in a different way. I'll still be working with producing, and each single's going to be like a different thing. We're going to try to do everything ourselves, from the recording to the film clips, just with friends we know.

"The thing with Regular is good 'cos I'm in Melbourne and they're in Sydney, plus they're interested in just doing special things and they're interested in doing singles. Plus they're small, so it's more of a personal thing than a business relationship."

But while he may be releasing singles, don't expect to see him hosting Countdown or carrying on with any of the other trappings, because "in Australia you get a group together and at a certain time you have to become a celebrity or something, and the idea of that leaves me cold".

Nor will he be touring to promote the releases.

"One day I might play again, with some mates or something, just for fun. Maybe a country group or something."

Live rock'n'roll doesn't appeal to Cummings these days. He hasn't seen any bands in Melbourne for ages. And although he likes Ray Parker Jnr and Orange Juice, he'd "rather go and buy some books than a record.

"I look at pop music now as another thing you can do, rather than being obsessed by it or anything like that, not that I ever was. I like music now more as background music; no, not background music, but something to read books by."
---
the Stephen Cummings site - email: feedback AT lovetown.net