MEDIA: Articles: Stephen's Stuck On Sports
by Ian Cover
19-25 March 1983 - TV Scene
---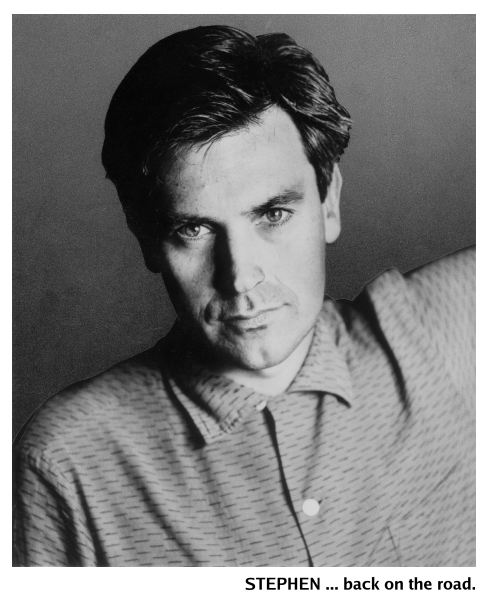 Former Sports lead singer Stephen Cummings is making his contribution to the recent trend of rock band reunions.
He's going on the road with ex-Sports guitarists Andrew Pendlebury and Martin Armiger.
But that's about as far as the Sports connection goes, as the new band will not be playing any golden oldies.
And they'll be performing for only four weeks - so it's really just a mini-reunion.
Also in the line-up are the experienced Mark Ferrie (bass) and Peter Luscombe (drums) with newcomer Stephen Bigger (keyboards).
Mark has played with the Models and the Sacred Cowboys and Peter hails from the Vince Jones band.
"The main purpose of the exercise if to promote my new single," Stephen told SCENE.
The single, Stuck On Love, is the follow-up to his solo debut effort, We All Make Mistakes.
It's the same style of IAOR (Intelligent Adult Oriented Rock) that Stephe pioneered with that first single.
"This one has a big production with a 20-piece string section and four female backing singers," Stephen said.
"It's a sophisticated, yet simple, sound; a tasteful pop ballad.
"That's what IAOR is all about."
We All Make Mistakes went part of the way towards converting the masses to IAOR, but total domination was thwarted by a radio industry dispute late last year.
Despite the problems, FM airplay was good. Stephen made his share of television appearances and sales response was moderate.
And even when the dispute was finally settled, some AM stations were still keen to pick up the song.
Ironically, while Stephen was running into trouble with his solo debut, interest in his career with Sports took off.
A greatest hits album, All Sports, was released just before Christmas and sold very well.
"I'm told it's still selling and isn't too far away from gold status," Stephen said.
Audiences at performances by Stephen's new band won't hear any Sports songs, but the material and sound will have a familiar Sports feel.
After all, Stephen was heavily involved in writing songs for old band and he's been busy churning out new material.
He is contracted to produce two more singles and an album later this year to Regular Records.
Stephen's live appearances have been limited since Sports disbanded 18 months ago.
He sang at the Mushroom Evolution Concert in January last year and recently put together a cocktail-hour outfit, Toc Toc, for a handful of special support shows.
"I'm looking forward to performing again the the boys from Sports," Stephen said.
"It'll be a pleasure and a lot of fun to work with them. We're all older and wiser."
After the four-week tour, Stephen has plans for another tour... overseas.
This one is strictly for pleasure, and he and his girlfriend intend to visit Italy and the U.S.
During that U.S. stopover, Stephen is likely to go to a disco.
"We All Make Mistakes has been re-mixed and released in America in a 12-inch dance version," he explained.
"It'll be interesting to see personally how it goes over."
---
the Stephen Cummings site - email: feedback AT lovetown.net