Grace and poise and life
by Vin Maskell - Rhythms magazine, issue 85, August 1999
---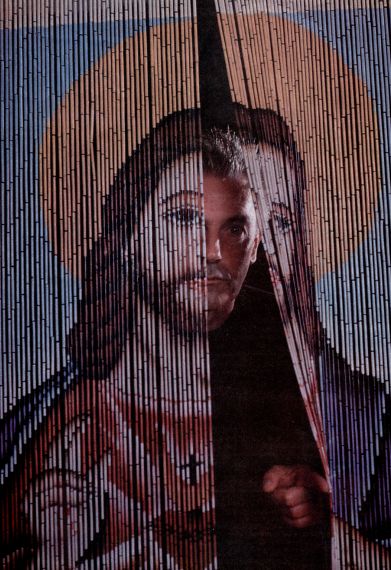 Stephen Cummings was back where it all began. But the Seaview Ballroom in Fitzroy St, St Kilda is now The George. The former bastion of punk and new wave and home away from home twenty years ago for the likes of The Birthday Party and The Sports is now an acoustic performance space. And an unamplified venue, at that. The audience was able to drink and chat downstairs before the gig, but come showtime, they headed upstairs, sat down and remained quiet.
And Stephen Cummings sang, relishing the opportunity to play to an attentive audience.
"I had to really go for it," he recalls. "I had to really sing!"
---
Cummings was singing material ideally suited to the simple, yet challenging, venue. His new album, Spiritual Bum, would have been called 'unplugged' a few years back. It's certainly a stripped back production - "There are no solos on the album." - and quite different to his previous two albums. Falling Swinger (1994) and Escapist (1996) were produced by Steve Kilbey. "They were all atmospheres and soundscapes - very layered sounds. I wanted to change all that."
Spiritual Bum sees the former Sports frontman once again singing about what he calls "love and the failures of mature life." There are some tender love songs but there's also a strong sense of yearning, of wishing that life was, well, just a little bit better than what's on offer. This is evident in tunes such as 'Such Luck To Be Alive', the sweet 'Shaped Like Love', the loneliness of 'Sad To Go', and the up-tempo 'Wishing Machine'.
On 'The Half Light', co-written with Christopher Marshall, Cummings sings, "We will find that we move with grace and poise and life."
The lyrics are Christopher's," says Cummings, in-between bites of a less-than-tasty roti roll filled with refried beans. "They were lyrics that resonated when I heard them. I edited them a little for the song."
Marshall, the former Harem Scarem singer who released a solo album, Strange Waters Small Mercies last year, also penned the lyrics to another song, 'The Night Is Singing'.
Cummings recorded the album in his home studio, a garage lined with thousands of books. One of those books was a collection of poems by French writer Guillaume Apollinaire. Cummings had bought the book many years ago when, as a teenager, he frequently visited The Source Bookshop at the top of Bourke St, in the city. He adapted one of the poems for the song 'It's Raining'. Was it a poem that he'd carried around in his head all those years? "Not really! The book just fell out of one of the shelves in the garage."
Lyrically, Cummings says he is striving to write more direct lyrics these days. "Earlier songs were vague and played around with words. But great songs are really simple, and speak to a lot of people. I guess I'm not trying to impress anyone now. I'm just trying to impress myself!
The green-eyed grey-haired performer has recorded Spiritual Bum with a handful of experience colleagues, plus some input from two younger musicians.
Guitarist Ashley Naylor, from the band Even, appears on three of the album's twelve songs. "I'd been buying a lot of second-hand vinyl, all the stuff I liked as a kid - the Kinks, early Roxy Music, the Faces, Ronnie Lane. At the same time I bought Even's latest album, Come Again. I enjoyed it so much I rang Ashley and asked him to play on some songs. His playing is very melodic. He's not short of ideas and doesn't play cliches. He's very much into the history of rock music and has similar musical references to me. But he's much, much younger..."
The youthful Dan Luscombe, of The Blackeyed Susans, plays guitar on two tracks, 'Don't Talk To Me About Love' and 'Straight To Your Arms'.
The album was mixed by Robert Goodge, whom Cummings describes as being "very much into sound as a thing in itself." Goodge was the man behind the mixing desk for the transformation of Yothu Yindi's 'Treaty' eight years ago.
Other musicians on the album will be familiar to fans of Stephen Cummings, Rebeccas Empire and Paul Kelly: guitarists Jeff Burstin and Shane O'Mara, bass player Bill McDonald, drummers Peter Jones and Peter Luscombe, and keyboardist Bruce Haymes.
"I knew exactly what I wanted to do," says Cummings. "The album was recorded pretty quickly and done simply. It's really the thing of the song and the singer. In-your-face and immediate, but also warm. Lo-fi but heavy on melody...There are no solos but the musicians manage to maintain an intensity and richness of mood".
When Stephen Cummings is not recording or producing music he likes to put pen to paper. His first novel, Wonderboy, was published in 1996. Set in the Santa Fe apartments of a suburb called Lovetown, it describes the life and times of Charlie, a single father who works in the music industry, and his nine year old son Max.
Cummings new novel, Stay Away From Lightning Girl, is due to be published soon. The book is about a rock musician Robert Moore, formerly of the band The Honeys. Moore has a slight problem - he's dead, struck by lightning. His only chance of redemption is if he can explain his life to 'the divine umpire of the afterlife, a chain-smoking, whisky-drinking angel.' A press release for the book describes it as 'a whimsical mystery about the mysteries of the human soul.' The author has called it 'a musical comedy without the music.'
While music is very much a collaborative effort, writing is a distinctly solitary occupation. And for Cummings, it's a hobby. "I try to perfect every note in my music, but I don't try to perfect each and every word in my writing."
These days authors are increasingly expected to be public figures: doing book readings, attending writers' festivals, going to book signings. But that's not for Cummings "I get too nervous at book readings, and I find writer's festivals a bit bogus." The singer, songwriter and novelist likes "the privacy between the author and the reader".
---
the Stephen Cummings site - email: feedback AT lovetown.net