What a bummer
by Dino Scatena - The Daily Telegraph, 15 July 1999
---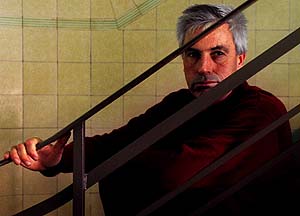 Part-time author Stephen Cummings has an analogy about how he wants the world to view his 20-year-plus music career.

"Hopefully it's kind of like Andy Warhol wearing one of those silver wigs," he offers along with one of his trademark nervous chuckles. "He never looked like he was getting older or dated – he just had that look forever. So I hope my music, my thing, will just be perennial."

One assumes Cummings's own white mop-top is pure coincidence.

The singer is discussing his latest recording, the intentionally restrained Spiritual Bum. After two albums with The Church's Steve Kilbey twiddling the knobs, Cummings has decided to go it totally alone for this, his ninth solo outing.

"Once is probably enough with anyone," says Cummings with another chuckle. "Anything I could ever have learned from Steve I've probably got from him now: he showed me all his tricks and I showed him all mine.

"It was really good, I really like him, I really like what he does and everything. But in another way it's a bit like I wanted to go back and take control again myself now. You think, 'What am I going to do now? I don't have Steve there to do that and that.'

"I sort of lost a bit of confidence in myself in a weird way. [chuckle] so I wanted to just strip it back and start again and make me central to the thing again.

"There are no solos on the record, the voice is mixed up loud. I thought I'd make it really simple 'me' sort of songs with me at the centre. Start me on a new path again, or something."

Spiritual Bum does have its louder moments as well. Four electric tracks, collaborations with Even's Ashley Naylor, break up the recording's predominantly acoustic feel.

Cummings and Naylor unexpectedly became friends late last year, a couple of days before The Sports' reunion set at Mushroom's 25th Anniversary Concert.

Cummings's old band from the '70s had long committed to the concert when guitarist Martin Armiger was forced to pull out when his already broken leg became gangrenous.

The disenchanted singer fortuitously ran into Even's bassist Wally Kempton who immediately offered his own services and those of guitarist Naylor to ensure that the show would go on.

"They were both massive Sports fans," chuckles Cummings of his new young friends. "I think Ashley's a really talented songwriter and guitarist. So it was really fun for me doing four tracks with him. It was really inspiring."

As for the Sports reunion itself? Well, that's another matter.

"It was really strange," says Cummings, offering only a half laugh. "A day in the rehearsal room was enough." Now he's in hysterics.

"It was too bizarre for me. Because I've gone my own way since then [1981], set a different path. But we sounded really good straight away."

New and old music aside – well, almost – Cummings is also about to release his second novel, Stay Away From Lightning Girl. The follow-up to Wonderboy, his new book tells a light-hearted story of a famous singer who is forced to return home to Melbourne from Canada when his mother suffers a stroke. Cummings put the finishing touches to the book lying flat on his back, recuperating from a slipped disc that had him house-bound for the best part of six months.
---
the Stephen Cummings site - email: feedback AT lovetown.net