Site Credits
---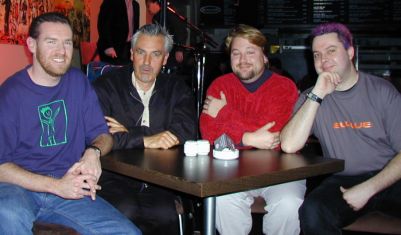 If it's not already clear, this is a fan built web site, albeit supported by Stephen himself. The site was created in a burst of enthusiasm in 1995 to become the first significant reference point for SC fans. Although primitive then, it has since grown to detail almost every aspect of Stephen's creative career. The site has two basic aims: to introduce Stephen and his work to newcomers, and to provide information to his existing fans.

All pages on the site are assembled, hand-coded and maintained (using vi!) by me, David Gilliver, an Australian currently living and working in Melbourne. I design the site structure and manage the content that is supplied by our various contributors. For more information about me, see my personal home page.

My principle co-conspirator is Ross Robinson, a graphic artist currently based in Sydney. He has been responsible for scanning most of the images here and has guided the general look of the site since it was created. Basically, it's his work that makes the pages look slick. As an added bonus, he has also contributed some of the album reviews, articles and stuff like that.

The mailing list for Stephen Cummings fans, The Big Room, is administered by myself and Andrew J. Cosgriff. While I generally do all the easy stuff, Andrew also handles various behind-the-scenes technical issues (even the lovetown.net web server!). Mr Cosgriff, your assistance is greatly appreciated!

There have also been many other contributors, who have diligently typed up album reviews, submitted their own (it doesn't have to be published anywhere to appear here!), helped with our attempts to accurately transcribe lyrics and offered various other assistance.

Particular thanks to the following contributors (in completely random order):
Craig D. Ising for his assistance with lyrics and chords for This Wonderful Life, Lovetown and A New Kind of Blue
Rob Whyte for assistance with some lyrics and chords
Matthew Pinnegar for the Juice review of Spiritual Bum
Jon Casimir at The Sydney Morning Herald for allowing us to reprint his reviews of Wonderboy and Falling Swinger
Matthew Connors for one of the '97 "Puppet" articles
Derek J for info about some rare single/promo releases
Alan Gelder for suggesting corrections to some of the Sports lyrics
Steve Gelder for assistance with lyrics to "Don't Throw Stones"
Stephen Williams for some live reviews
Traci Pearson for assistance with Skeleton Key reviews
Andrew H for his assistance with lyrics for Senso, miscellaneous other songs and for some discography information
Nicholas Stronell for information about some early SC single releases
Mark Trengove for the elusive "Fair Game" scan
Spaz at POPsided magazine for his interview with Stephen
Bob Starkey for assistance with lyrics and other random stuff
Tim Hayward-Brown for a live review
Jon Pedler for assistance with a lyric transcription
Crush76 aka Sean Sennett for information on his collaboration with SC and assorted articles/reviews
Christie Eliezer for giving us permission to reproduce one of his articles
Alex Pertout for information about his involvement in the recording of Senso
Colin for the Rollercoaster cover and all the Detours information
Dave Barker for assistance with articles, reviews and some cover scans
Gerald McNamara for assistance with various discography details (including some scans) and for taking the photo of us with SC (see above)
Damien Wieland for various chords and archival press coverage
Richard Smith for assistance with Sports lyrics
Darren Thomas for the image of the Thru The Hoop artwork
Robert Dunstan @ Rip It Up magazine for some articles
Michael Taylor for the scan of the US cassette version of Suddenly
Darrell Greer for some lyrics assistance
Paul Chai for information about the "Screwed" collection of stories
Peter de Vries and Robert for assistance with articles and reviews
Chris Marrinan for the Sondra lyrics and for some info about "The Crossing" soundtrack
Some discography details taken from "An Australian Rock Discography" 2nd Edition by Chris Spencer, Moonlight Publishing, Bendigo 1990. Thanks to Chris for his assistance with artwork scans of some rare releases.
Carlos Boll and Adam Coleman for photos and lyrics
Melinda for one of the Love-O-Meter reviews
Scotty Russell for reviews and gig info
Andrew Joy for info about upcoming gigs
The official Ed Kuepper site for the info about the "Totally Wireless" JJJ album
Craig Johnston for the US Rolling Stone Sports review
Mick Corr for various Sports scans and his review of the Sports live '98
Nick Corr at Addicted to Noise for his review of SC live '99
Michael Rae for sending on a live review and an album review
Peter Blight for information about the "Asylum Seekers Are People" album
Stella Durdin for help with various lyrics
Sarah Taylor for a scan of a 1986 article
Bill McDonald for fixing up the last bits in the "More Of Her" lyrics
Christopher Price for assistance with info about tour dates
Peter Horbury for gig reports, reviews, articles and info about single releases
Andrew J Cosgriff for articles, miscellaneous info, gig reports and various image scans
Kevyn Marshall for some singles scans
Jill Gilliver (my very cool Mum) for typing up some of the Spiritual Bum reviews
Jo Cosgriff/Michael Devery for info about numerous early solo releases and a number of invaluable scans
Brian Smith, maintainer of the web site for The Church
Greg at the now-defunct Greg's Music World webshop for info about various SC-related releases and excellent no-fuss service.
Andrew and Monique from Mr Walkers Company for keeping us in the picture in '97
Graham Lee at WMinc Productions for assistance above and beyond the call of duty
It should go without saying that we especially value the contributions and support of Stephen Cummings himself.
---
the Stephen Cummings site - email: feedback AT lovetown.net