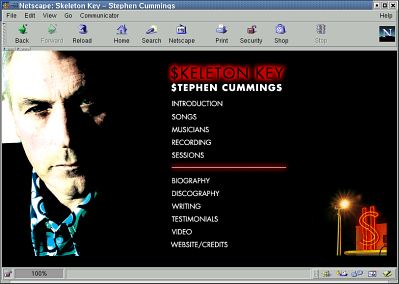 The CD release of Skeleton Key is Stephen's second release to feature an interactive component, accessible on any computer with a CDROM drive and a web browser.

The CDROM component contains:
Stephen's introduction to the album
album lyrics with notes by Stephen for each song
photographs and brief bios on the musicians involved
notes about the recording sessions by Shane O'Mara
photos from the recording sessions at Yikesville and Woodstock
a biography detailing Stephen's musical career
a discography of his solo album releases
information about Stephen's two novels, including the the first four chapters of each
testimonial written pieces by author Elliot Perlman, journalist/musician Sean Sennett and director J. Harkness.
Quicktime video file of Stephen and band performing "Wishing Machine"