Stephen Cummings: the latest news
page last updated: 16 May 2023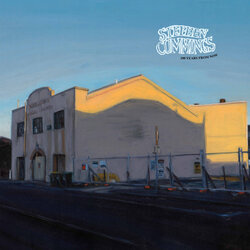 Stephen's first album since his 2020 stroke is "100 Years From Now" and was released 5 May 2023. You can order vinyl, CD and digital versions now.
In May 2015, Stephen re-united with his Sports cohorts Martin Armiger and Andrew Pendlebury for three special shows playing Sports songs: "The gig appeared out of the blue and we are looking forward to it. No tour, no repeat performances, just these two dates. Martin has written the set list - all the hits and all the jam songs. Back to being a lead singer in a colourful suit like an italian postage stamp."
Stephen's solo album "Nothing To Be Frightened Of" was launched at the Caravan Music Club on 5 September 2014. The album was recorded quickly and simply with Shane O'Mara at Yikesville.
SC-fan Mike Brook has made a documentary film based on "Will It Be Funny Tomorrow, Billy?" which recently premiered at the Melbourne International Film Festival. You can find a trailer and some background information on the Don't Throw Stones website.
Stephen has created a Vimeo account to host his video clips.
Stephen has said: "As I understand it, come July [2013], Warner Music will re-release the original four SPORTS albums. The first album, "Reckless" will come with a 12-track bonus studio album of the same songs at an earlier session. The infamous "Lost" Sports album recorded on a mobile recorder in Camden with Liam Steinberg have been found and will accompany our second album, "Don't Throw Stones". Albums three and four - "Suddenly" and "Sondra" are to be remastered. On Indy-record shop day, there will a limited release of an album of never before obtainable SPORTS recording. The only song I've heard, "Ju Ju Man" sounds very good."
Stephen released his third book, Will It Be Funny Tomorrow, Billy? early in 2009. Subtitled "Misadventures in music", it's a non-fiction book containing stories from his life and career. It should be available in book stores everywhere or you can buy it direct from Stephen.
You can now become a fan of Stephen on Facebook.
Stephen's solo albums Senso and This Wonderful Life albums have been re-issued through Liberation Records as a double pack with extended liner notes and bonus tracks (different from the previous CD releases). Lovetown/A New Kind Of Blue were subsequently re-issued in similar packs.
In April 2007, Stephen spent a Saturday morning at Melbourne's The Forum filming the "In The Big Room" live DVD. That DVD has now been released and includes both the DVD and an audio-only CD. I was acting the part of stills photographer so you can see a bunch of photos on my photography website (or in the artwork of the actual release).
From Bill McDonald: "Just to let you know that the Four Hours sleep album is being released sometime in August [2006] on Popboomerang. The album's called "Love Specifics" and features Stephen, Angie Hart, Charles Jenkins, Paul Kelly and Ollie Olsen on vocals. I've just signed the contract and the cd is being manufactured as I write, so I don't know the exact release date. There is also a myspace site which the guy from popboomerang has set up featuring a song with Angie and one with Stephen." As with "More Of Her", the songs have been written by Stephen and Bill.
Stephen is featured in a chapter of the recently-published book Songwriters Speak, alongside 43 other well known Australian and NZ songwriters.
A publicist from DIG Internet Radio sent me this: "Just thought I should let you know that Stephen Cummings was a part of the Australian contingent for the ABC Blues Festival, and an interview and recording can be seen/heard on the ABC website. This site will remain up after all the other blues broadcasts have finished (Scorsese blues films on TV etc..)". You can find that on this page.
Channel 9 aired their profile of Stephen on 16 May 2004. You can read a summary of it on the "Sunday" website.
Stephen has recorded a song with Martin Armiger (ex-Sports) for the soundtrack of the new ABC TV mini series "Marking Time" written by John Doyle (Roy and HG, Changi). The song is titled "Land of Plenty" and can be found on the official soundtrack album.
To keep up-to-date with the latest info, subscribe to Torch, the Stephen Cummings news list. To also read and participate in fan discussions, join The Big Room instead.
---
the Stephen Cummings site - email: feedback AT lovetown.net