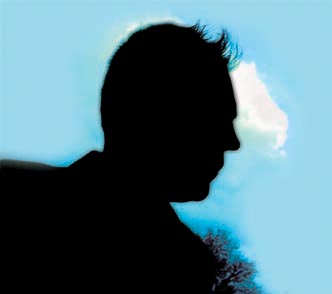 Welcome to Lovetown!
This page answers the following basic questions: For information on those responsible for creating this website, see the credits page.

Stephen Cummings first achieved success in Australia as lead singer with The Sports, a pop band that had a number of hits in the late 70's including the classic "Who Listens to the Radio?". Never completely comfortable with the rigours of touring with a band, it was not surprising for him to embark on a solo career after their demise.

His first solo offering, the album Senso charted impressively due to the top 5 success of the single "Gymnasium".

Whilst that album received considerable attention from the general public, his subsequent releases have not fared so well. With his third album, Lovetown, Cummings hit his creative stride - critical praise was showered on the album, and it is now revered as a classic amongst his fans and followers of the Australian music scene.

Stephen has now released 23 albums, consisting 17 studio albums, two 'best of' compilations, a live disc, two albums of acoustic re-workings of his songs and a rarities collection. Sales of his albums are usually quite modest, despite the acclaim which greets each one. His fourth album, A New Kind of Blue, won an ARIA award for "best adult contemporary album" (1996's "Escapist" was also nominated in the same category) and his eighth album, Falling Swinger, was included in Australian Rolling Stone's list of "100 essential Australian albums".

With The Sports, Stephen ranted and rocked his way around a stage. His solo career has generally showcased his considerable abilities as a pop singer with the occasional foray back into rock (eg. his Firecracker album). Rolling Stone once said he "has the very rare ability to sing quietly, with passion" while The Age has described him as "one of the great voices of Australian rock".

I like to describe his music as intelligent pop or perhaps the red wine of pop. His music can be an acquired taste that gradually reveals itself as completely bewitching. One critic praising his Lovetown album wrote "This is pop, it's rare and it should be treasured".

Often catchy and just as often idiosyncratic, he utilises a variety of instrumentation, ranging from a glossy dance beat to a simple acoustic guitar backing or a sparse jazz piano accompaniment. Always oozing style and class, he croons his tales of love confused, lost, regained and dreamt of with a voice that is simultaneously bold and hesitant.

You can sample some of Stephen's songs on the mp3 page on this site.

I recently put together a compilation tape for a friend intended as an introduction to his work. It's not quite a "best of" but I believe it gives a newcomer a pretty good idea of what to expect from him. Here's the track listings of the 90 min tape and the 74 min Minidisc version, complete with some "liner notes" written by me.

Stephen is a keen collaborator, both on his solo releases and in a variety of group projects. This is a list of just some of the musicians that Stephen has worked with at some point in his career:
Chris Abrahams (The Necks)
Rebecca Barnard (Rebeccas Empire)
David Bridie (My Friend The Chocolate Cake)
Jeff Burstin (Jo Jo Zep and the Falcons, The Black Sorrows)
Joe Camilleri (Jo Jo Zep and the Falcons, The Black Sorrows)
Chris Cheney (Living End)
Toni Childs
Edwyn Collins (Orange Juice)
Michael Den Elzen (Split Enz, Rebeccas Empire)
Tim Finn (Split Enz, Crowded House, ALT)
Renee Geyer
Robert Goodge (I'm Talking)
Dave Graney (The Moodists)
Ross Wilson (Daddy Cool, Mondo Rock)
Ross Hannaford (Daddy Cool)

Angie Hart (Frente)
Vince Jones
Steve Kilbey (The Church)
Dan Luscombe (Blackeyed Susans)
Peter Luscombe (The Black Sorrows, Rebeccas Empire)
Christopher Marshall (Harem Scarem)
Wendy Matthews
David McComb (Triffids)
Bill McDonald (Frente, Rebeccas Empire)
Grant McLennan (The Go Betweens)
Ashley Naylor (Even)
Shane O'Mara (Rebeccas Empire)
Andy White (ALT)
Ross McLennan (Snout)
Wilbur Wilde (Jo Jo Zep and the Falcons)
If you want to purchase any of the following recordings, take a look at Whammo, an Australian-based online music store which has some of the albums listed here. Some other Australian online stores include HMV, Sanity and Chaosmusic. Alternatively, try some of these pages or if you're in the US, try Pandora's Music Box.
Stephen's albums have been released through a variety of major Australian record companies. Finding any of his releases tends to be at the mercy of the re-issue programs of these record companies. For instance, the last I heard was that the widely acclaimed Falling Swinger album is currently out of print. I think A New Kind of Blue has fared better, perhaps because it was an ARIA award winner.
Senso was released on the Regular Records label, which was distributed through Festival Records. This Wonderful Life was released on Polydor Records, and Lovetown, A New Kind of Blue and Good Humour were released on the small label Truetone Records, which was distributed through EMI. Unguided Tour was released on Polydor Records, and at the same time, the Truetone releases were re-issued by Polydor. Stephen left Polydor after the PPPPP&K compilation in 1997. Spiritual Bum was initially released through Festival Records and has since been re-released through WMinc Productions. Skeleton Key and Firecracker are both WMinc releases, distributed by Sydney-based MGM.
All of The Sports albums were released through Mushroom Records. The Four Hours Sleep album was released on White Records (through Mushroom) and the Christopher Marshall album appeared on MDS (also Mushroom).
Stephen can be booked for live performances by contacting this site at feedback@lovetown.net and we'll pass it on.
---
the Stephen Cummings site - email: feedback AT lovetown.net